8Days to DISCOVER AL-ANDALUS - Daytime Travel Route SERVICE PACK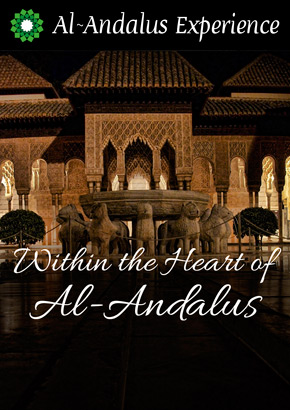 Duration: 8 Days (approx.)
Location: Granada, Granada
Product code: PGTso_8DAE_MAD
Book Now
Discover the most important historical capitals of
Al-Andalus, their Islamic legacy and monuments as well as their
provinces: Córdoba, Seville and Granada. We will spend the third night
in Granada and a final night in Madrid. In this way the tour
will provide you with space for relaxation, optional activities, and
workshops. We will start from Madrid Airport, spend two nights in
Córdoba, Caliphate Capital of Al-Andalus, one night in Seville, the
current capital of Andalusia, before we take a picturesque route of
three days from Ronda to Granada, the Last Muslim Kingdom of al-Andalus
and a final night in Madrid.

Day 1: Arrival to Madrid and direct transfer to hotel.

Pick up at Madrid-Barajas International Airport and transfer to hotel. On our way we will have welcome presentations, and an introduction of Spain. Upon arrival and check-in to your hotel in Madrid city centre *** BOOKED SEPARATELY***, we will take a leisurely walk through the city and end with our first welcome dinner and a moment
of rest at Your hotel

Day 2: Córdoba, capital of the Umayyads.

Trip from Madrid to Córdoba, Caliphate Capital of Al-Andalus.
During our first day in Córdoba city we will visit a small museum
within the access tower 'Dar al-Hourat', the Tower of Liberty, where we
will find the 'Live Museum of al-Andalus'. In this museum we will
receive an introduction to the old medina, before we walk our Official
tour into the medina al Qadima (Ancient town) of Cordoba and the Ummayyad Mosque
(748-1236). After our visit to Cordoba, we will benefit most from the
tour visit to Medinat Al-Zahra, the Caliph's city during the Ummaya's
Dinasty in Cordoba. Besides the archeological site, the city also
contains a research and an exhibition center prized by the European
Board of Museums as well as the Aga Khaan World Board of Architects. The
visit includes an animated cinematographic recreation of the city and
its daily life during the reigning period of the Caliph of al-Andalus
and its 128 Walis & Government. Free time is given for
snacks and shopping. This will provide an excellent opportunity to see
the Andalusian courtyards, homes, streets and alleys. Optional visits to
any of the three active mosques in today's Cordoba. In the evening we
will proceed to rest a little. After the visits and a negotiated time
for leisure & shopping, we will gather as a group again for our
welcome dinner at Andalusian Courtyard home in the medina of Cordoba.

Day 3: From Córdoba to Seville, capital of Andalusia today

We will continue down the Guadalquivir River, making our way to
Almodovar del Rio and further down towards Seville (150 km). Upon
arrival in Seville, we will introduce the city to our guests through a
bus tour and check in at the arranged hotel. Guided visits in Seville's
historical center. This includes the Alkasr Royal Palaces & Gardens,
Cathedral of Seville, modern Giralda, Torre del Oro, Jewish quarters,
the old medina and city walls, Parque de Maria Luisa, Plaza de España,
and the remains of the Almohad courtyard and minaret.
The evening will be dedicated to walks, rides and river boat tours in
Seville's historical center and along the beautiful riverside. Lastly
the day will end with a meal and rest.

Day 4: Ronda mountain route through to the last kingdom of Al-Andalus: Granada.

We will leave Seville to visit Ronda, a fortified ancient
Iberian town in the Northern Mountains of Málaga. Here in Ronda we will
learn about the different historical periods of the Iberian Peninsula,
specifically in regards to Islamic Spain. Our introductory walk takes us
through the streets and alleyways of the old medina,
with various sightseeing stops while we discover the 'Fortress City' of
Ronda. We will learn about Spain, Iberia, Andalusia and Al-Andalus, and
its cultural or traditional heritage to our current times. We will not
include any monumental visits in Ronda, unless it is available and
convenient at the time of our visit. Especially since we will do the
main monumental visits in Granada, the last Muslim Kingdom of Al-andalus. We will then move swiftly to Granada (260 km), were we can rest at our leisure, before dinner and a walk through the city.

Day 5: Granada, the last Muslim Kingdom of Al-Andalus - Tour of the Alhambra city court, palaces and gardens.

Guided visit to the Alhambra palatial town, including the Nashrid
Palaces, Alkasaba fortress, Generalife summer palace & gardens, and
the old medina of the Alhambra. Afterwards, we move on to visit the old
medina of Garnatta and its main areas, divisions, and city walls. We
will visit the Albayzin Mosque at the Mirador de San Nicolas, the most
famous viewing point of Granada and the Alhambra. After a lunch break,
we will walk down through the historical quarters & different stages
of expansion in the former Muslim medina. This walk will take us
through to the modern town, which is a fusion of Souq markets, old
alleyways, riverside and the active modern city appeals. According to
our group's interest and stamina, we can offer additional visits to the
former Madrassa area, bab Rambla and silk market which are hidden in the
modern part of the city.


Day 6: Leisure & Activity day in Granada.

This day is reserved for your own leisurely plan, you may participate
in any of our own or other local available available. These consist of a
series of workshops or sport activities which we will happily offer to
groups of ten plus participants and have a separate cost range of 25€
for the workshops and 35€ for a complete multi-activity and sports
package (climbing, paint-ball, archery, cycling, etc). upon your
request, horse riding activities are also available. None of the above
activities are included within the price of the tour package, the costs
must be provided beforehand and upon registration of the activity,
course or workshop . Essentially we have a free program until tomorrow's
departure. Those opting for a shorter, five night tour will have a
private transfer arranged from Granada to Malaga Airport, taking around
oune hour and a half, and leaving Granada four hours before the groups
earliest flight departure time.

Day 7: Transfer back to Madrid via Toledo, with leisurely, panoramic and meal stops along the way.

Leave Granada through the north along La Mancha, taking leisurely, panoramic
and meal stops in the route of Don Quixote. Finally again at Madrid, for our last evening,
we have a choice of spending some time walking in the city or heading straight to our hotel
check-in for a rest before dinner..

Day 8: Transfer from the hotel to Madrid-Barajas International Airport for departure.

Tour services will conclude upon arrival at the airport terminal and
assisting travelers with their luggage at the check-in desk before
departure.